Welcome to the 2014 STASHBUSTERS CHALLENGE thread.
Everyone is welcome to play. Pick a prompt and jump right in!

Prompts are open for two weeks.

The more you play, the more chances you have to win a small scrapping goody from me (and some others who are donating prizes!!) and the more pages you will get done!

Please link up your creation in this thread for a chance to win and I will also have a challenge box you can check during the upload process.
Look for **Stash Busters Challenge**

You can submit more than one page/project for each challenge so feel free to make use of your inspiration.

**You can combine all these prompts. Each prompt you use is good for one chance to win...so use 3 prompts on one layout = 3 chances to win!***

We all like to get comments on our pages so if you are playing along please try to find the time to return the favor!


**********************************************************************
Deadline for these challenges are MONDAY February 10th 11:59 pm PST

**********************************************************************

PROMPT #1

Use at least 1 heart and/or the word love on your project.

This prompt is in honor of Valentine's Day. Perfect time to get some cards made!

Page by Amy Coose






Page by charityj




Page by Leslie Ashe




Card by Mindy Miller




Card by Caroline104




Prompt #2

Scrap a holiday related page.

I have hardly touched my Christmas photos or products hence this prompt. Holiday doesn't have to mean Christmas...it can be Easter, Thanksgiving, Halloween, Fourth of July etc....

Page by quigmei




Page by Rebecca Keppel




Page by Ashley Horton




Prompt #3 Fast and Simple!

Be inspired by this page by Jen Larson and keep it really simple and make it quick......under 45 minutes!!!

You can make your own simple page or copy this one. Just make a quick one!


Prompt #4

Use this recipe to make a page/card.
3 different patterned papers
a butterfly, an arrow or a clock
use something that you've never opened or have had in your stash too long. Can be paper/ stamps/a stencil etc....
use ink, mist or paint on your page
some ribbon, thread or twine
a tag
Prompt #5
Complete any Two Peas challenge. I will add links as they become available.
Marianne
~~~~~~~~~~~~~~~~~~~~~~~~
My Youtube channel

in the moment


Welcome to the 2014 STASHBUSTERS CHALLENGE thread.
Everyone is welcome to play. Pick a prompt and jump right in!

Prompts are open for two weeks.

The more you play, the more chances you have to win a small scrapping goody from me (and some others who are donating prizes!!) and the more pages you will get done!

Please link up your creation in this thread for a chance to win and I will also have a challenge box you can check during the upload process.
Look for **Stash Busters Challenge**

You can submit more than one page/project for each challenge so feel free to make use of your inspiration.

**You can combine all these prompts. Each prompt you use is good for one chance to win...so use 3 prompts on one layout = 3 chances to win!***

We all like to get comments on our pages so if you are playing along please try to find the time to return the favor!


**********************************************************************
Deadline for these challenges are MONDAY January 27th 11:59 pm PST

**********************************************************************

PROMPT #1

Use circles (at least 3) as design elements on your page.

Page by Layle Koncar



Page by Anabelle O'Malley




Page by Geralyn Sy




PROMPT # 2

Be inpired by Lilth Eeckels. I will miss her work as a Garden Girl! Her gallery is HERE Scraplift or find inspiration from any of her creations. I've showcased a few here.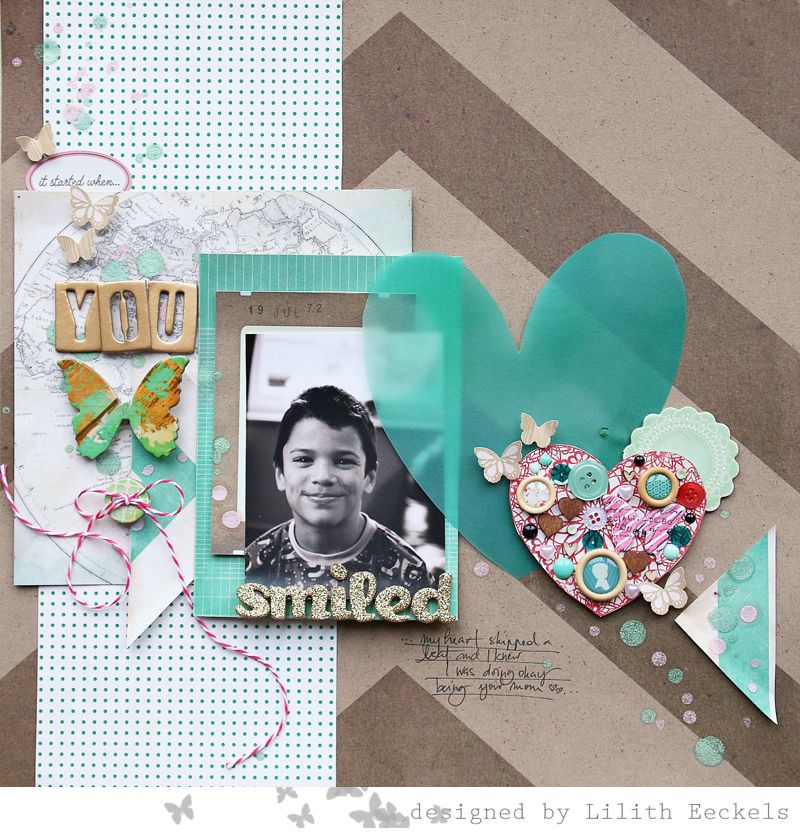 PROMPT # 3

Use this sketch from Pagemaps November 2013




Sample page by Sophie Crespy





PROMPT # 4

Use borders and banners. Border punches and border stickers. I have a ton I never use. Same for banners. I still love the look of them. Use at least 2 on a project (could be a card too!)
**You can use either a banner OR a border....doesn't have to be both together.

Page by Sophie Crespy




Page by helloleah




Page by Shannon Tidwell




Shannon did a Two Peas video in Jan 2011 about border stickers.....

PRODUCTS YOU LOVE

Page by Tessa Buys




PROMPT # 5
**New addition for this prompt****
Any class you have taken at Two Peas.....those lessons count here too!

Complete any Two Peas challenge. As long as the date is valid, it counts here!

Storytellers
**use a timeline

Glitter Girl
**use group photos

Make it meaningful
**make an advice based layout

Moments video
**use layered diecuts on your page