Everyone is welcome to play. Pick a prompt and jump right in!
Prompts are open for the month of MARCH 2015
The more you play, the more chances you have to win a small scrapping goody from me and the more pages you will get done!
Please link up your creation in this thread for a chance to win.
You can submit more than one page/project for each challenge so feel free to make use of your inspiration.
**You can combine all these prompts. Each prompt you use is good for one chance to win...so use 3 prompts on one layout = 3 chances to win!***
We all like to get comments on our pages so if you are playing along please try to find the time to return the favor!
**********************************************************************
Deadline for these challenges are March 31, 2015 @ 11:59 pm PST
**********************************************************************
PROMPT #1

Going Green
Use the color green on a page and/or scrap a page about the great outdoors.
Page by Danielle Flanders
Page by Jenny 41180 (scrapbook.com gallery)
Page by Lisa Dickinson
Page by Tracie Clairborne
Page by Marnie Flores
PROMPT #2

Go Vintage
Use a photo that is at least 5 or more years old and /or use products that create a vintage feel. Examples: cream based tones, inked edges, doiles and lace, buttons, ephemera etc...)
Page by Jen Gallacher
Page by memoriesformom (split coast stampers)
Page by Marianne Barone
Page by Jane Eubanks
PROMPT #3

LAYERS!
Use at least 3 layers of papers on your page!
Page by welobellie (sc gallery)
Page by Sheltieluvr Lisa)
Page by Jamie Waters
Page by Shimelle Laine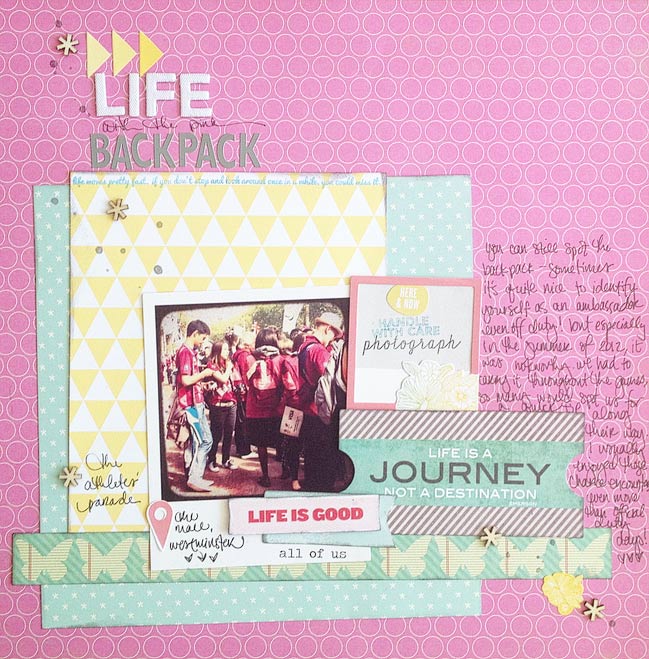 PROMPT #4

Use this sketch for inspiration for your page.
PROMPT #5

Be inspired by any of the Cocoa Daisy designers projects
http://www.cocoadaisy.com/cocoa-daisy-design-team/